---
Overview


AmazingTalker is a language learning app with diverse teachers and flexible scheduling options. The reason for this app redesign is because even though I've been using it for over a year, I find it's still difficult for me to navigate to the pages I need to schedule lessons and read notifications.



App's current interface
---
Problem Statement

・Unclear navigation
・Unintuitive user journey
---
In response to these findings, I proposed two solutions to tackle the problems. 👇
---
Solution 1
---
Efficient Information Architechture
👉 Reorganize the pages in a intuitive way.

👉 Renew the content in tab bar.
---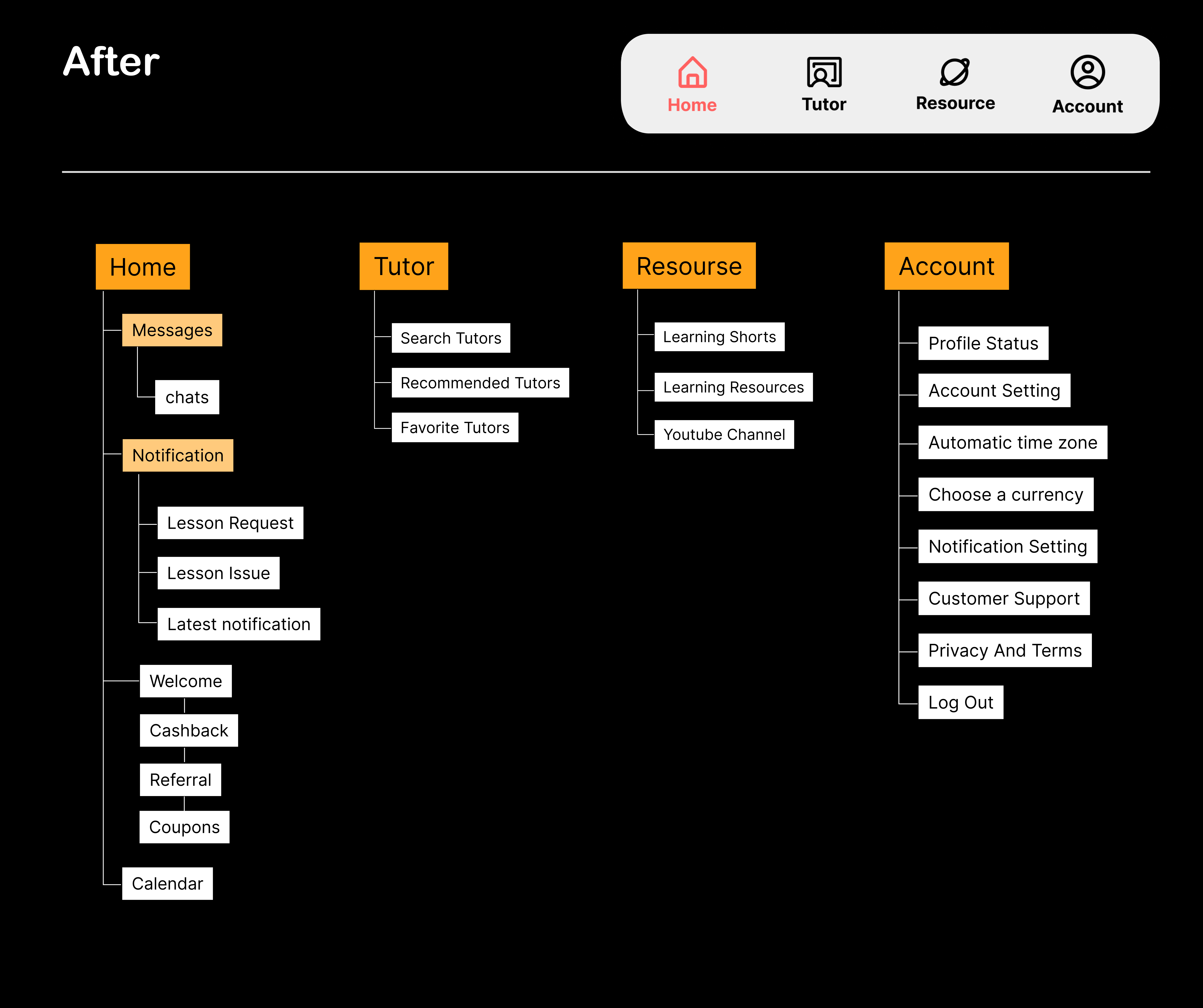 ---
1-1. How I seperate them into different groups.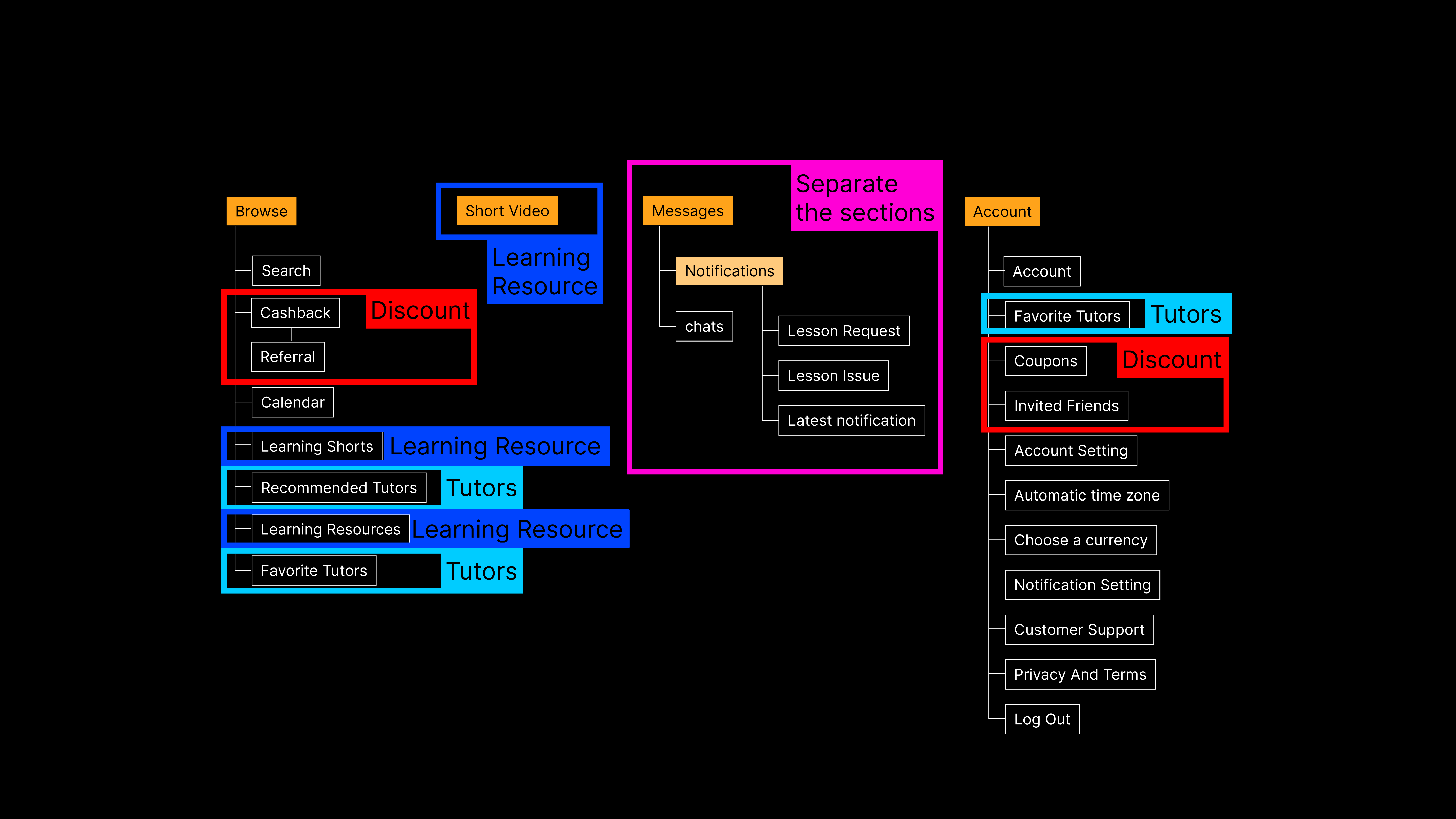 Upon reviewing the original information architecture, I noticed that several functions were grouped together in the same tab. To improve the organization, I regrouped the functions based on their relationship and created new tabs for "Discount," "Tutors," and "Learning Resources." Additionally, I found that the "Notification" tab was nested within the "Message" tab, making it difficult for users to access important tasks.

Based on user research, I identified two common scenarios: users searching for a tutor and users who already have a tutor and are taking classes. To better serve our users, I separated the tutor-related functions, such as searching for a tutor and favorite tutors, from the calendar and course-related functions. This way, users can more easily navigate the system and find what they need.

---
To improve the usability of the app, I made two changes to the information architecture.
First, I moved the "Message" and "Notification" buttons from their original location and placed them on the Home page. I arrived at this decision after researching some
Navigation bar document
and finding that this placement would be more intuitive for users. By doing this, users can access their messages and notifications more easily, without having to navigate to a separate tab.
---
Second, I updated the tab names based on the new groups of functions to make them more intuitive. This change ensures that users can quickly and easily find what they need.
👉 Top navigation bar
👉 Card system
---


I added a modified tab bar to the app. Unlike the original version, this new tab bar includes indicators that show users their current location within the app. By doing this, users can easily keep track of where they are within the app and navigate to other areas more quickly.
---
I implemented card structures and unified style text titles across all sections of the app. This change provides greater clarity and consistency when users search for information across different sections.

Furthermore, this design approach makes future updates or content additions easier to implement. By establishing a unified structure and style, new content can be added more seamlessly, without the need for significant design changes. This enhances the scalability of the app and ensures a smooth user experience for future updates.
---
Figma Prototype
Test the prototype here!
---
Before

⬆ Working Prototype! ⬆
Scroll to see the original design.
After

⬆ Working Prototype! ⬆
Scroll to see the difference.
---
Home

To balance the needs of the user and the business, I kept the discount and course-related content sections on the page, as they are crucial for users.


Welcome Card

---
Within the discount section, I created a card that includes cashback, referrals, and coupons, which displays prominently at the top of the homepage. This ensures that users can easily find and take advantage of the best prices available in the app.


Calendar Card
---
Based on user research, I found that the calendar, booking classes and checking incoming classes are essential for users.


Message & Notification
---
I also relocated the notification and message to the top navigation bar, making them more easily accessible for users.
---
Tutor

To make it easier for users to find and save their favorite tutors, I created a new "Tutor" tab in the app.

This tab includes all the sections that can lead users to the tutor's page in the original version, but now users can access them all in one place.
---
Learning Resource

During usability testing, several users commented that they would appreciate having a dedicated section for the app's learning resources.

One user even commented that they would use these resources during their commute if they were easily accessible. Taking this feedback into account, I rearranged the app's learning resources and created a dedicated tab for them on the bottom navigation bar.
---
Account


To motivate users to keep learning, I added a new card to the app that displays how many classes and minutes the user has already completed. This feature provides users with a sense of accomplishment and encourages them to continue using the app.

Additionally, to keep the app's interface clean and organized, I removed some repeated functions that were previously available in other tabs. This helps to streamline the user experience and keep the app's main functions easily accessible.
---
Reflections

I am thrilled to work on this project because I have used this product a lot. I recognized this as an excellent opportunity to further develop my design skills by engaging in the design processes of this project. I hope that my enthusiasm for this endeavor has come across and that you have enjoyed learning about it as much as I have enjoyed working on it.

As always, I welcome any feedback you may have, and thank you for taking the time to read about my journey in the process.